This year, I hand-knitted our stockings and embroidered our names on each one in a scrawling, charmingly imperfect script.
A week before Christmas, I baked six dozen cookies—using only organic, locally grown, gluten-free ingredients—wrapped them in hand-folded bakery boxes, tied them with twine I gathered from the brush last fall, and inscribed the letterpressed cards with an old French aphorism suiting each recipient, then translated the phrases into English on the back. I delivered the cookies to my neighbors, with a (BPA-free) thermos full of gourmet hot chocolate I bought from an independent chocolatier on Etsy.
For Ethan, I whittled a few educational toys from found birchwood. I also hand-stitched a number of books for him that I created using my extensive collection of photographs and my limitless imagination. I had them printed on recycled paper.
Noah's gift was more difficult. I had to really scavenge to find all the recycled electronics parts and do some serious self-study of computer engineering before I could piece together the Steampunk personal computer I'm surprising him with. I modeled it on this one: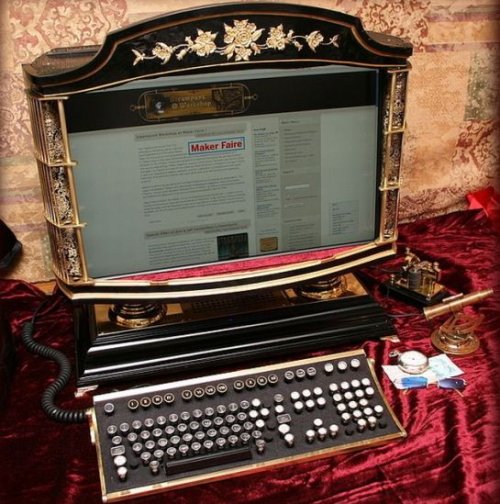 For my parents, I found a vintage bedroom suite for $35 on Craigslist that I stripped and restained in their favorite wood tone. I did a little hand-painted detailing, but nothing spectacular.
I wasn't sure what might delight Kyle—you know,
really
fill him with joy—but I settled on a memory book. I spent 40 hours combing our family archives to document all his accomplishments since birth. I'll admit that tracking down his first-grade substitute teacher (for a quote) was the hardest part. I'm only sorry I didn't have time to polish the 1999 Woodridge Baseball All-Star trophy I salvaged from a water-damaged box (that's his secondary gift, just a little something I threw in last-minute).
I hope you all have as spectacular a holiday season as we're sure to have! I'll catch you on the flip side.